On the last morning of the International Salesian Youth Games, young athletes gathered to celebrate a communal Holy Mass. It was led by Ljubljana's Archbishop and Metropolitan msgr. Stanislav Zore.
He addressed the young people in the spirit of the motto of the PGSi 2019: "United by the Field". The Games are more than just a game and a competition AGAINST another. It's about a game and a competition WITH someone,. It's about the relationship that needs to be established. If the field of these Games unites, it's peak is definitely the Holy Mass that unites us with Jesus.
A person who thinks of him or herself as a constant winner and a perfect person, can no longer grow. This was the attitude of the Pharisee from the Bible passage that the young listened to. The Archbishop invited them to grow in the attitude of the tax collector who accepted God's invitation to endless conversion and growth.
Young people also actively participated with their prayers and thanks in their proper languages, and the representatives of the countries brought their gifts in front of the altar. Singing animation was done by Odkloplen Grega with friends.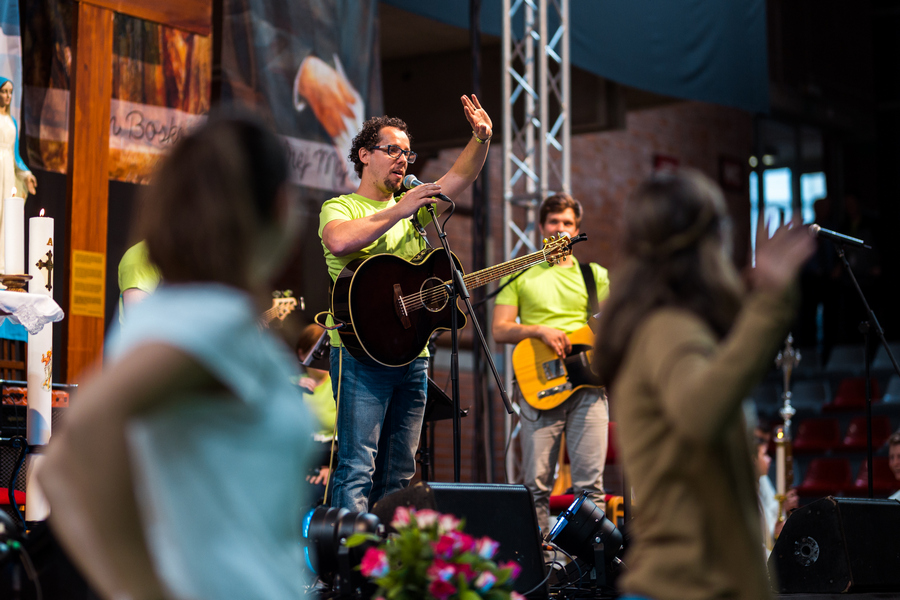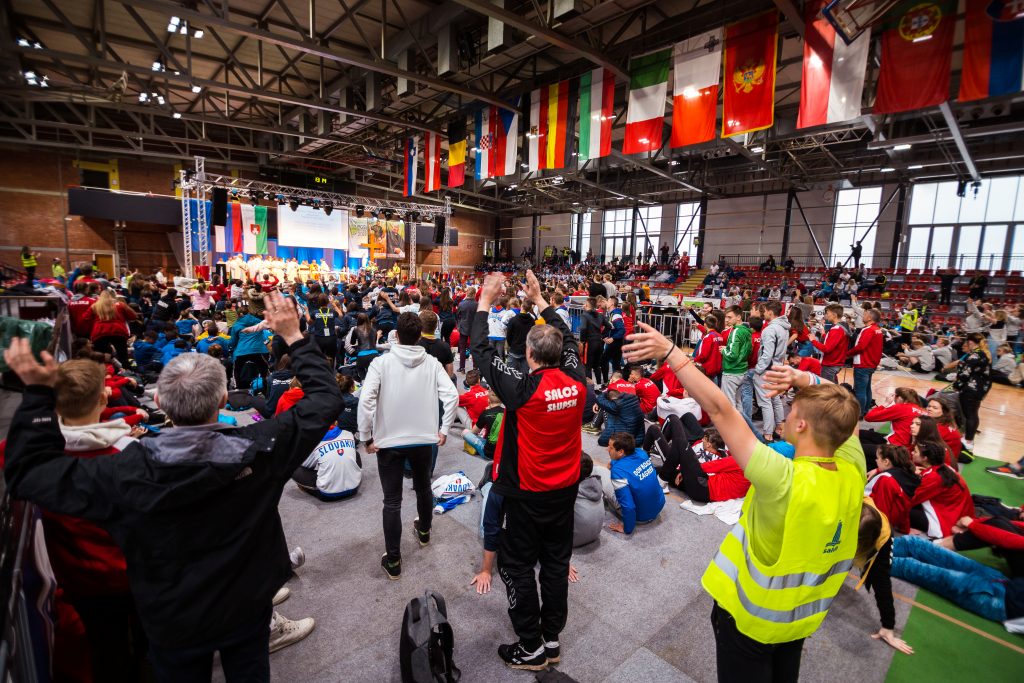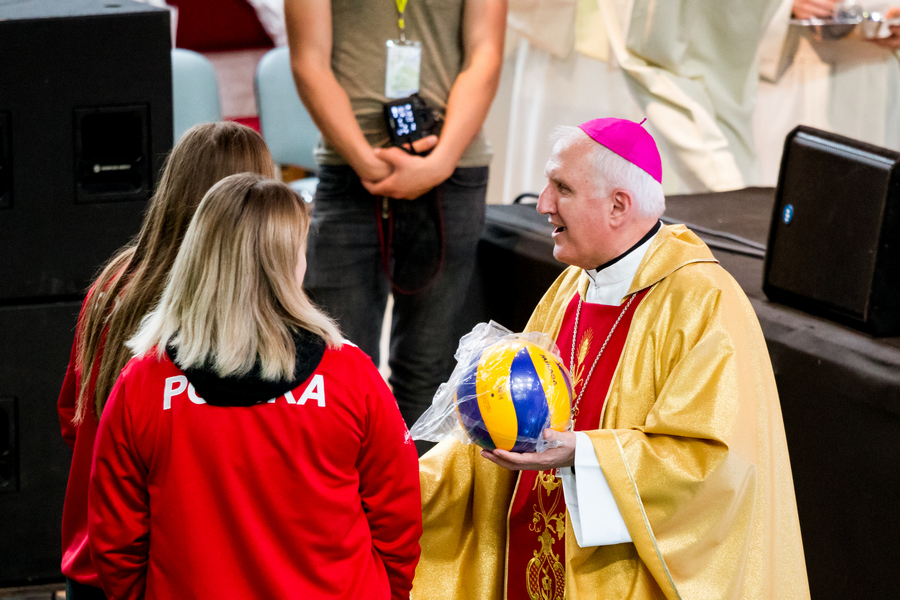 Find more photos in gallery.
Archbishop Stanislav Zore's Homily
»Salesian brothers. Organizers and Volunteers of this sports–friendship–spiritual event. My dear young friends. I wish to wholeheartedly welcome you to this central event of the Jubilee 30th International Salesian Youth Games. This tournament now needs the final dotted I-s and crossed T-s in order to show who is noticeably better and will end up leaving with a certificate for being the best.
It is true these days have for the most part been directed toward sporting events and competition. However, the slogan of this year's meeting and tournament is, "United by the field." This means that the sporting events have been tuned a bit differently than usual. Ordinarily we read or hear that a club plays against another club. Two teams oppose each other. One of them wins and the other is beat.
Your games, my dear young friends, where you were united by the field, did not play two teams against each other but with each other. This kind of thinking and approach to tournament does not make losers but all turn out to be winners. The field unites us in the sense that a person needs another person in order to grow as a person. A player needs another player to play with or to compete with, otherwise there is no game. The field unites us in the awareness that we need each other and that we need each other's abilities so that we can improve our own abilities and skills that make our games ever more attractive, refined and graceful.
At this point we have gathered for the central event of this meet, that is, we have gathered around the table of the altar where our Lord Jesus Christ will offer Himself for us to the Heavenly Father. He is the center of our meeting. You have spent time with Him already Thursday evening during adoration and spiritual reflection. I am sure most of you were meeting Him at morning and evening prayers as well as in many moments each day as you remembered Him, gave Him praise in your hearts, turned to Him with requests or thanked Him for something beautiful in your lives.
This morning we shall meet Him as He keeps His promise to remain with us all the days until the end of the age. He is fulfilling this promise in His offering of His Body and Blood, when something wonderful happens. We offer Him fruit of the earth and work of human hands, whereas He consecrates these offerings and gives us His Body and Blood in return for us to live in Him. When we bring fruit of the earth and work of human hands to our Father at this holy mass we will include all your efforts in the field and everywhere else, so that Jesus accepts and blesses you and your efforts in order to be fertile in your lives. This way Jesus will unite us in a stronger and firmer way than the field. He will unite us into one body, into His mysterious Body, in which we all become one.
In the reading we heard the Apostle Paul reveal his heart to his disciple Timothy, "I am already being poured out like a libation." He has competed well, finished the race and kept the faith. Only the Lord who has given him strength is still important to him. Paul needed strength very much. How many seas has he sailed? Three times shipwrecked and one day and night on the high seas. How many paths walked? How many tribulations? Three times scourged and once stoned.
He not only encountered opposition in relationships with people or unfavorable natural givens but also had to struggle and finish the race within himself, where he felt a thorn in the flesh, an angel of Satan. He writes he begged the Lord three times for this to leave him. The Lord replied to him, "My grace is sufficient for you, for power is made perfect in weakness." (2 Cor 12,7- 8). He was able to go through this because the Lord came to him and gave him strength to complete his mission.
We too, my dear young friends, are called and sent like Paul to proclaim the good news, not with some great acts or inherited or acquired titles, but with great trust in God's faithfulness to His promises, as He cannot deny Himself. His faithfulness is our strength. We too can conquer through Him who gives us strength, as St. Paul has said.
The passage from the Gospel according to Luke we have just heard calls us to the hardest and most important contest of our lives. Two people came to pray in the Temple, a Pharisee and a tax collector. The Pharisee mounted the winners' steps, boasting, "Look at me, dear God, and tell me how good I am. I keep all the commandments and nobody under the Sun could reprove me for any weakness or fault." And God turned His face away from him. This person was so full of himself that he was blind for God and for people. The tax collector knew he was a sinner, so he beat his breast and prayed, "O God, be merciful to me, a sinner." And God looked on him with favor, entered his heart and cleansed him. He went home justified.
The hardest contest of our lives is to be authentic and sincere. How difficult it is to admit that we are not perfect, that we need God, that we need His forgiveness. We would prefer to be the best, the most perfect, the most capable, the most beautiful… The list of our wishes for perfection is long, too long. And too often we thing that many of the wishes have come true. However, we forget that whatever is perfect can no longer grow. Only what is small can keep growing. What has become large is subject only to contraction and decay.
It is therefore important to ask Jesus today to open our eyes through His Holy Spirit in order for us to see and accept ourselves the way we really are. We shall then experience a beautiful moment of Jesus becoming our Guest and helping us grow and move on. He will help us survive our shipwrecks and get through the various forms of flagellation and stoning we are subjected to. We will learn how nice it is to complete the struggle and race with Jesus at our side.My dear young friends, after all your accomplishments in these Jubilee 30th International Salesian Youth Games I wish you that you never take off your sporting outfits for the spiritual struggle that conditions you in fidelity and that the help of our Lord Jesus Christ, who said to Paul, "My grace is sufficient for you," remain with you. I also pray to our heavenly Mother Mary to protect your youth and your efforts so that you can enjoy the fruits of your lives. Amen.«