It has been 20 years since the death of God's servant Andrej Majcen, a Slovenian Salesian who dedicated his life to young people in Vietnam and China. His involvement in sports was not foreign to him, he was even more involved and understood it as an important educational approach …

---
Official prayer of PGSi 2019:
Lord, be my Coach, Leader, Healer and Teacher of life.
Be a part of our team, a fair referee and a friend.
You who understand me and who value my abilities.
I offer you my life.
Help me today and forevermore.
Amen.
---
Catechesis
Physical, tactical and psychological preparation for important competitions is the basis of every training in sport. From a spiritual point of view, too much is underestimated and forgotten. With the help of this catechesis, however, in preparation for the PGS 2019 we can also make the first step in this direction.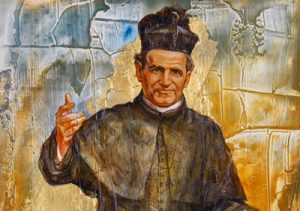 Possibilities for a Holy Mass on Sunday, 5 May
| | |
| --- | --- |
| St. Joseph, Poljane (Janeza Pavla II. 13) | 8.00, 10.00 (English) |
| St. Nikolaus, Center (Cathedral, Dolničarjeva 1) | 6.00, 7.00, 8.00, 9.00, 10.30, 12.30 |
| The Annunciation to Mary, Center (Prešernov trg 4) | 7.00, 8.00, 9.00, 10.00 |
| Mary Help of Christians, Rakovnik (Rakovniška 6) | 7.30, 10.30 |
| Heart of Jesus, Tabor (Maistrova 2) | 7.30, 10.00 |
| St. Peter, Tabor (Trubarjeva 80) | 8.00, 9.00 |
| St. Anthony of Padua, Vič (Tržaška 85) | 7.00, 8.30, 10.00, 11.30 |
| St. Cyril & Methodius, Bežigrad (Kuzmičeva 6) | 8.00, 10.00 |
| Christ Resurrected, Fužine (Nove Fužine 23) | 8.00, 11.00 |
| St. Theresa, Kodeljevo (Ob Ljubljanici 34) | 8.30, 10.00 |